RXR attracts visitors to historic Pier 57 with honey bees
RXR is committed to building socially, economically and environmentally responsible communities. The real estate company's diverse portfolio includes Pier 57, a historic location in Hudson River Park. The pier features office space, a marketplace showcasing small businesses, restaurants, a rooftop park, and has earned a place on the national register of historic places for its innovative design.
"The RXR team took an underused and dilapidated pier on the west side of Manhattan and developed it into a state-of-the-art,
award-winning public/private venture that is going to change the west side of Manhattan for the better."
– John Ambrosini, Senior Property Manager at RXR
The mission
RXR began the redevelopment of Pier 57 in 2016, aiming to cultivate a culturally rich environment, including both private and public space. Pier 57 now features an almost 2-acre public rooftop park – one of the largest in New York City. It is RXR's mission to continuously push boundaries, bring more people to the pier, and connect New Yorkers (and visitors from around the world) with nature in unique ways.
As a commercial real estate operator, RXR faced the universal challenge of bringing people back to New York post-covid. They needed to come up with an attraction that would draw people out of their homes and back into the city.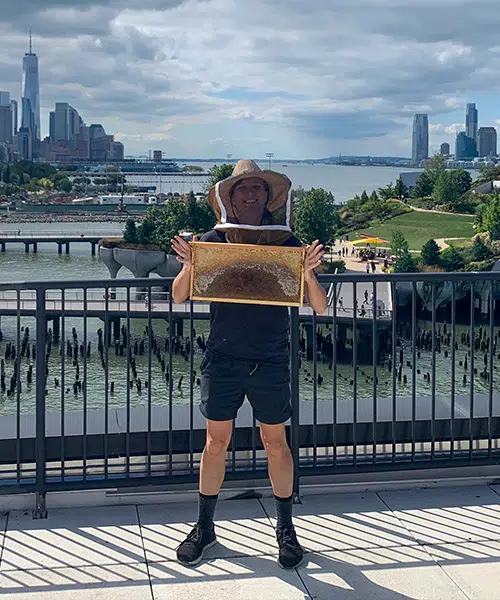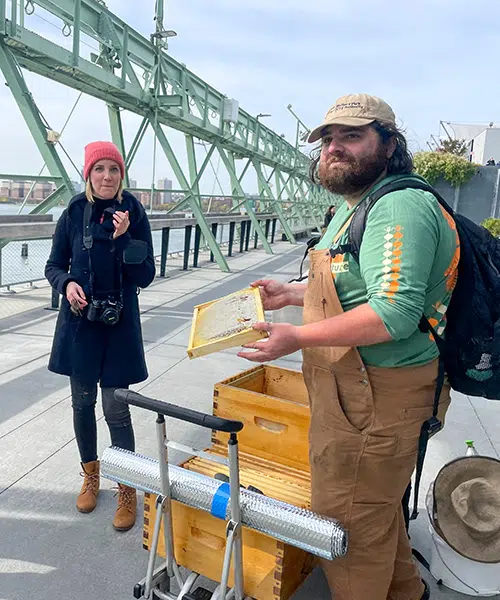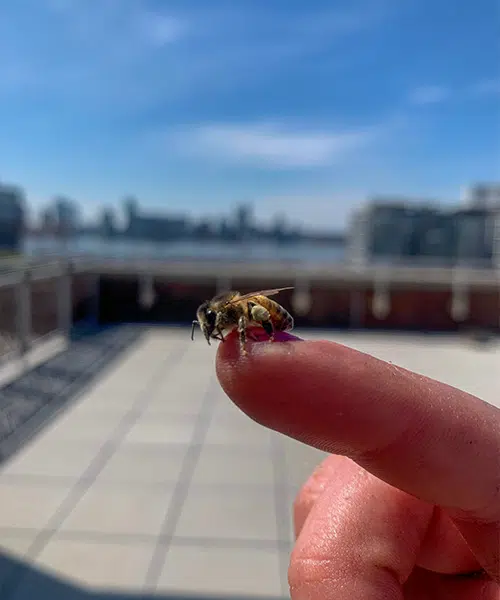 The solution
In 2022, RXR partnered with Alvéole and welcomed honey bees to Pier 57. With the bees came more unique opportunities to engage with the community. The location's dedicated beekeeper is there to answer questions during hive visits and spark a love for bees through environmental education workshops.
"People have become comfortable in their homes post-covid and we need to come up with an attraction. One of the things we can do is create amenities, like outdoor space, and Alvéole has helped us with that. They have a wonderful educational program. They are central to what we do at the pier in terms of teaching the public."
– John Ambrosini, Senior Property Manager at RXR
Alvéole's expertise
The results
The honey bee program has proven to be a unique way to market Pier 57 and attract visitors. RXR's goal to integrate nature into the city aligns perfectly with Alvéole's mission to foster a deeper connection with and love for nature amongst city dwellers.
"Alvéole is a great partnership for us. We're bringing some sense of the outdoors and the wildlife that's in New York here so that people who are in urban settings can merge the urban city with natural outdoors life."
– John Ambrosini, Senior Property Manager at RXR
1
A popular NYC destination
The park welcomes 1500 visitors a day with that number expected to grow thanks to Alvéole's environmental education workshops and events.
2
Sustainable landscaping
Pier 57's landscaping team has embraced the bees and maintains diverse plant species throughout the property to support their habitat.
3
A memorable gift for visitors
The honey produced by the pier's bees is a wonderful (and delicious) gift to be able to give to Pier 57's visitors.
---
Let's talk about how to make your property stand out
We'll help you find the best nature-based solution to meet your organization's needs.
---