Premium, nature-based activities position Amica Senior Lifestyles as industry leader in resident experience
As a leading provider of premium retirement residences in Canada, Amica Senior Lifestyles empowers seniors to live with optimism by providing the best amenities and care. There are over 30 locations across British Columbia, Alberta, and Ontario – 6 of which have embraced bee programs with Alvéole since 2021.
The mission
Amica Senior Lifestyles was looking to bring added value to their service and stand out from the competition by providing enriching activities for their residents. They wanted a partner who could work with them to implement premium experiences that would position them as an industry leader in resident experience.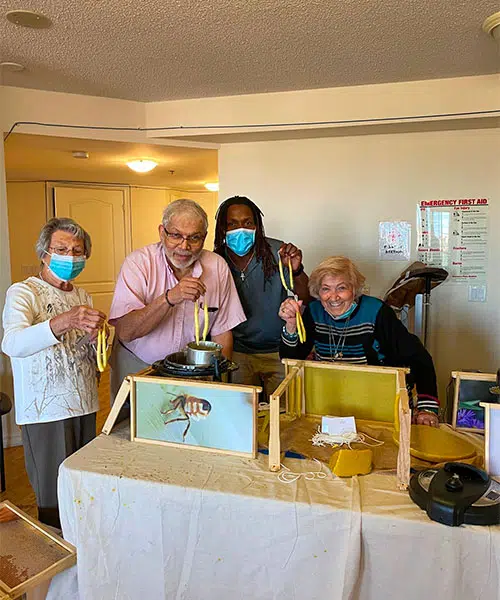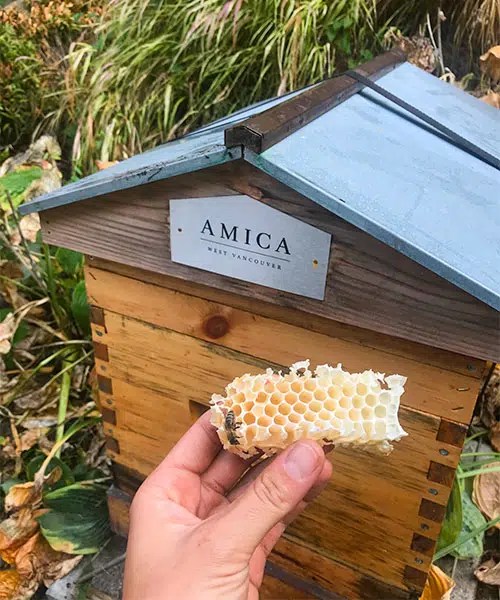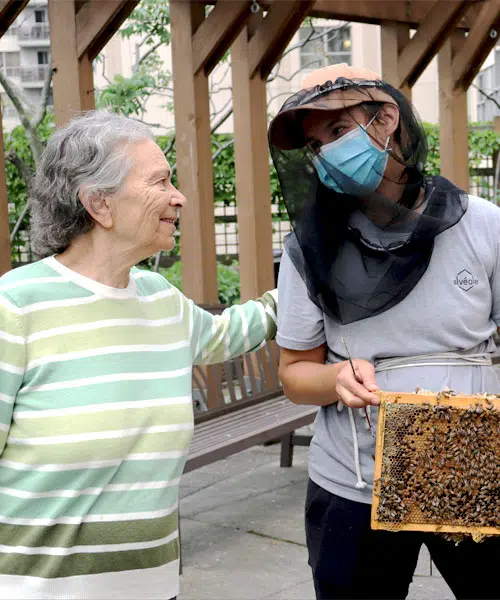 The solution
The educational and resident experience elements of Alvéole's bee program fulfilled Amica's need to provide their residents with unique and engaging activities. Interactive hive visits and workshops offered lifelong learning opportunities as well as a connection to nature – something that many seniors enjoyed throughout their lives and fear losing when they move into a retirement residence.
"I remember opening Alvéole's website and gasping, 'this is it'. The alignment was perfect from a premium perspective."
– Kaylea Botting, Communications Specialist, Amica
Alvéole's expertise involved
The results
The Alvéole workshops and the beekeepers' regular hive visits instantly gained popularity and were highly anticipated by all. By taking time to connect with each resident, the dedicated beekeepers quickly built strong relationships with the Amica community.
The program continued to build traction into its second year, with residents choosing to participate in the activities year-over-year. Having learned the basics in the first year, the second season set the stage for deeper learning opportunities amongst participants and greater excitement for the various highlights of the beekeeping season.
"Now in the second year of the partnership, we are seeing more interest from other Amica residences. This year, we had three additional residences actively asking if they can get hives at their building."
– Selina MacDonald, Strategic Partnerships Manager, Amica
1
Enriched resident experience
Staff and residents have leveraged the bee program to host residence-wide events – from bee-themed meals, to a queen naming contest, and even a mini museum.
"Working with their beekeeper to make sure they had the right information and using photos from MyHive, they mapped out the whole beekeeping season and created a gallery wall for residents, staff, and visitors to enjoy."
– Kaylea Botting, Communications Specialist, Amica
2
Increased media mentions
In the first year of the bee program, Amica saw a significant increase in earned media features, a way to quantify the program's success. The bees were a powerful storytelling tool, which allowed Amica to gain momentum, share positive stories, and position themselves as a compassionate community partner.
Campaign results:
✓ 21 pieces of earned media coverage
✓ 9.5 million media impressions
3
Key sales differentiator
Amica is able to set themselves apart from other retirement communities by offering a premium, one-of-a-kind experience.
"This partnership has been a unique differentiator. We leverage our value proposition through creative and inspired storytelling."
– Selina MacDonald, Strategic Partnerships Manager, Amica
---
"Like bees, there are many stigmas around senior living. Both are misunderstood and should not be feared. Amica and Alvéole are breaking down barriers together. At our 'Meet Your Bees' workshop, one resident was terrified of bees. The beekeeper took a frame out of the hive and for the first time in the whole workshop, this resident decided to step outside. She wanted to learn more and really pushed her boundaries. I was so proud of her."

– Kaylea Botting, Communications Specialist, Amica
Talk to us about your tenant engagement goals
We'll help you find the urban beekeeping package that best suits your organization's needs.
---