Honey bees and urban gardens get Nuveen tenants excited to come to the office
Nuveen is one of the world's largest asset managers, serving clients in more than 30 countries. Through their partnership with Alvéole, they've brought nature-based bee programs to over 25 buildings across the U.S.
One of these locations is 730 Third Avenue, a property in the core of midtown Manhattan, NYC. The LEED Gold certified office building features amenities such as a fitness center, food hall, multiple landscaped terraces, and as of 2020, rooftop urban honey bees.
The mission
Like many office buildings, the team at 730 Third Avenue faced the challenge of enticing tenants to return to the office. Their mission is to create an attractive and fun workplace by offering unique initiatives and events to benefit all tenants, giving them a reason to come to the building outside of work. Sustainability plays a key role in Nuveen's practices and policies, and they aim to align their programming with their sustainability targets.
"It's our job to get people here, to get them excited about coming to work."
– Daniel Farley, Building Amenity Manager, Tenant Experience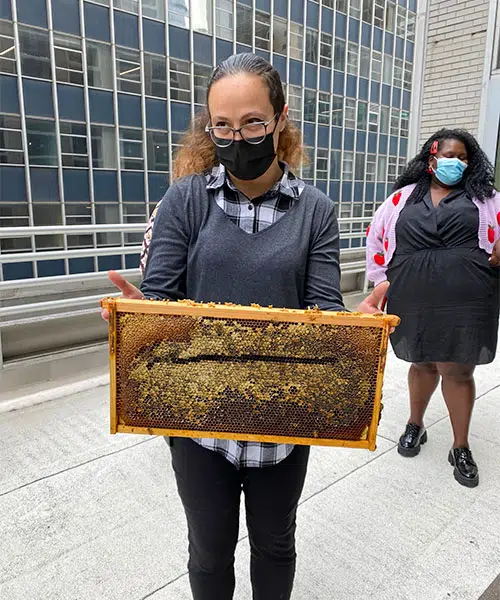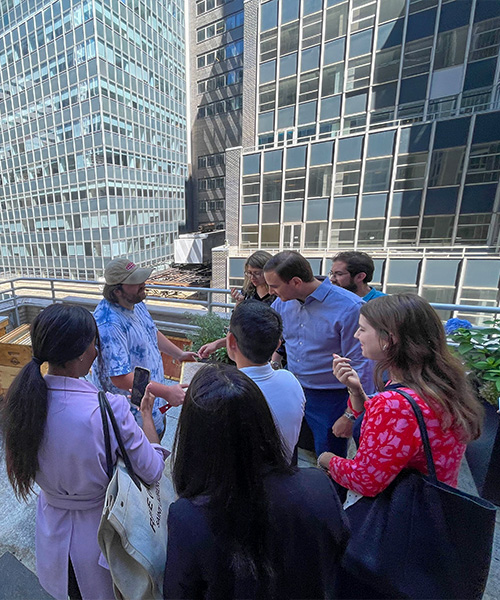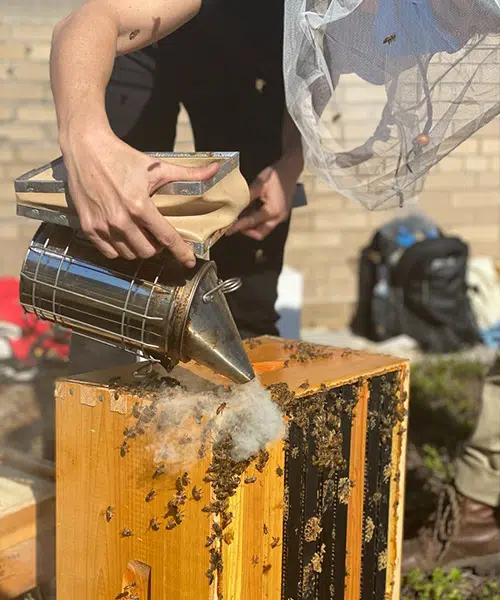 The solution
To fulfill their tenant engagement and sustainability needs, the property incorporated an urban beekeeping program, welcoming honey bees on one of the rooftop terraces. The accompanying educational workshops keep tenants engaged year round, with outdoor workshops around the hives in the warmer months and indoor workshops like candle-making in the cooler seasons.
730 Third Avenue also worked with Green City Growers to install several urban gardens, including a pollinator-friendly garden near the hives. Alvéole is proud to partner with urban farming experts Green City Growers to offer an urban garden package to properties in New York City and Boston.
"The look before and after is staggeringly different. The fact that we now have a beautiful 22nd floor terrace and all of these pollinator-friendly plants for our bees featured through Green City Growers has been great. The partnership with Alvéole makes it even better – who knew our tenants loved learning so much about our bees!"
– Jasmine Czarnecki, Assistant Property Manager, Asset Services
Alvéole's expertise involved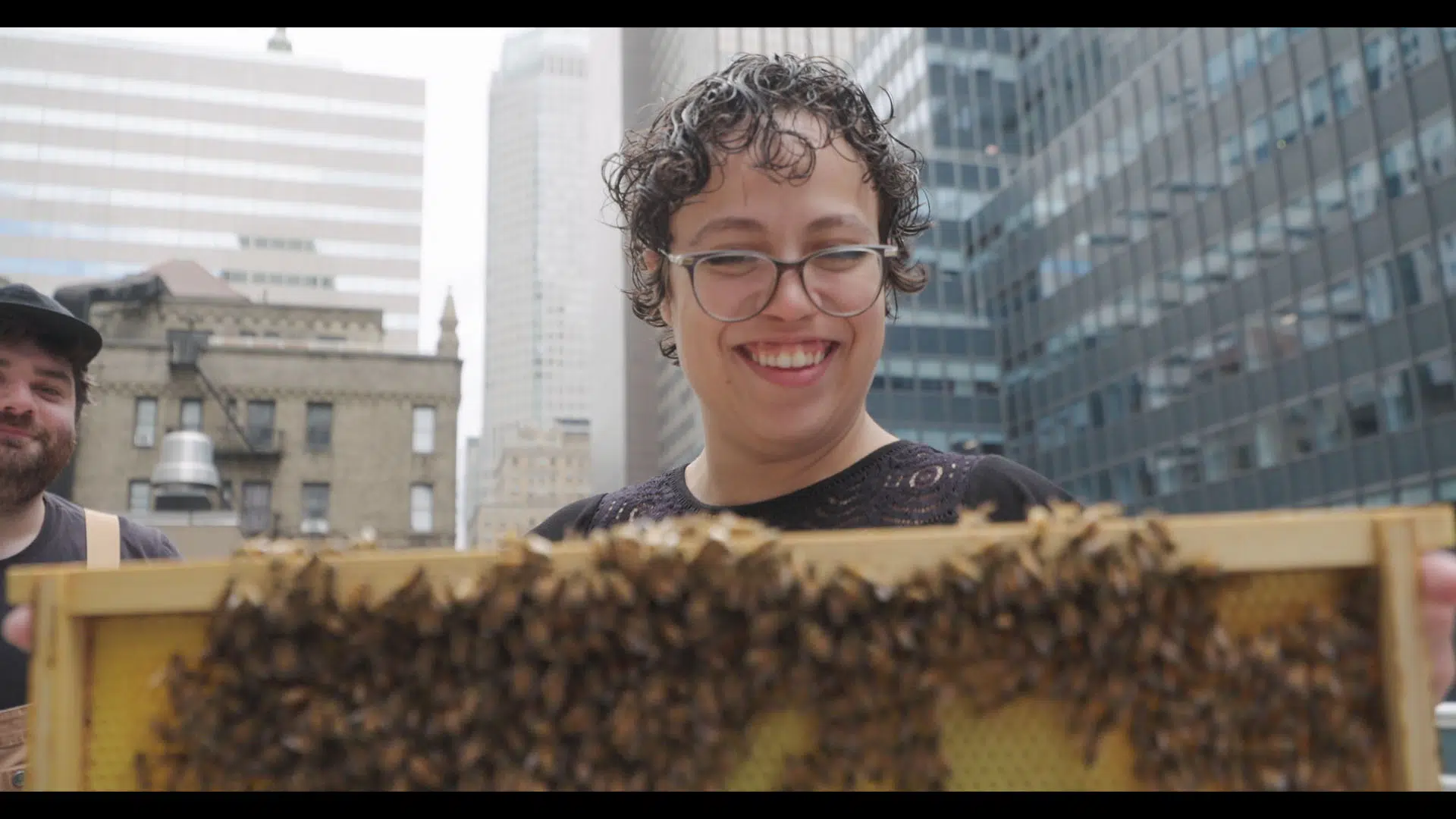 The results
The partnership has made a difference in tenant engagement rates and the return to office. The stimulating, educational events break up the work day and leave tenants inspired and excited. Employees who wouldn't normally have the opportunity to collaborate get to meet during workshops and connect through a shared interest for what they're learning.
When it comes to Nuveen's sustainability targets, the honey bees and rooftop gardens make an impactful pair. The two programs work in tandem, with the gardens supporting the bees, and overall sparking curiosity and conversation around biodiversity and environmental sustainability.
"The partnership between both Alvéole and Green City Growers has been great because our hospitality team gets to utilize both parties and see the cycle of how to make our bees happy, which makes our tenants happy, which makes my life easier, which makes me happy, and it's been really fun."
– Jasmine Czarnecki, Assistant Property Manager, Asset Services
1
A more attractive and engaging office environment
The programming has had a 30-40% engagement rate building-wide, with that number only increasing over time.
"Tenant experience has skyrocketed due to the partnership with Green City Growers and Alvéole".
– Jasmine Czarnecki, Assistant Property Manager, Asset Services
2
Initiatives that align with Nuveen's sustainability goals
Sustainability plays a key role in all of Nuveen's initiatives. The installation of a pollinator garden has a direct positive impact on biodiversity. The beekeeper visits, educational workshops, and communication through the tenant engagement app have spread greater environmental awareness amongst tenants.
3
Local honey used as an effective leasing initiative
"The fact that we get jars of honey with our label is great. People love it. It's a great leasing initiative. It's a surprise and delight to give. It's something that many buildings don't offer, and that really stands out as an identifier for the portfolio and for the company."
– Daniel Farley, Building Amenity Manager, Tenant Experience
---
"Maybe I'm a little biased, but I think every building needs to have a beehive. Maybe we just take over the world, one building at a time, one beehive at a time, one garden at a time."

– Jasmine Czarnecki, Assistant Property Manager, Asset Services
Talk to us about your tenant engagement goals
We'll help you find the best nature-based solution to meet your organization's needs.
---