RESIDENCE INN BY MARRIOTT

Residence Inn by Marriott wins over guests with urban beekeeping program
Residence Inn by Marriott Calgary Downtown / Beltline District is one of the largest Residence Inn hotels in the world. The 390-suite hotel offers a full service restaurant with rooftop patio, a contemporary café, 6 corporate event venues and proximity to the city's top attractions.
In 2021, the hotel partnered with Alvéole to welcome several thousand long-term guests into their Air Bee & Bee: two honey bee colonies.

The mission
The hotel's management company (Atlific Hotels), the ownership group (QuadReal), and the Marriott International brand itself all make environmental sustainability a strategic priority
and incorporate it into their core values.
The hotel was searching for a way to take their sustainability efforts further and better tell the story behind those efforts. They wanted something visual, interactive, and memorable for their guests. A unique initiative to help the hotel stand out from its competitors.
"We wanted to exceed the prescribed hotel standards around environment and sustainability."
– Tim Ostrem, General Manager, Residence Inn by Marriott Calgary Downtown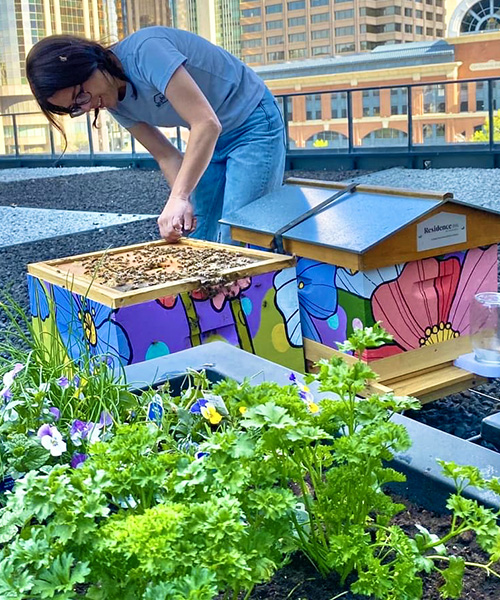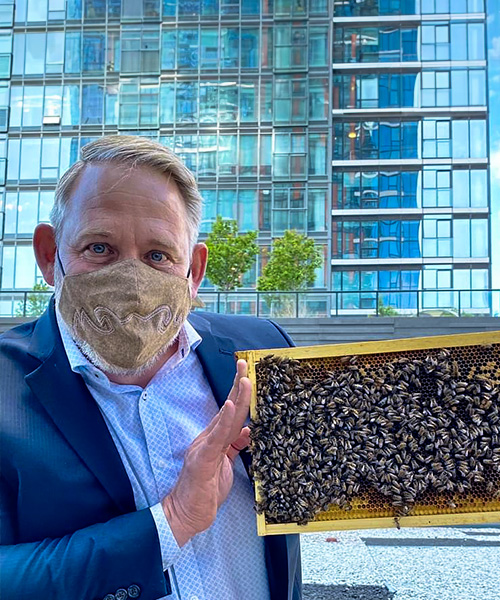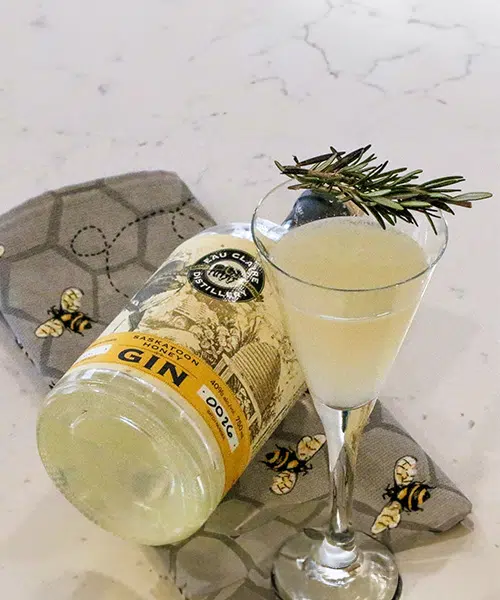 The solution
Guest experience
To maximize interaction between the guests and the bees, the Residence Inn team opted to install two honey bee hives on the patio outside the breakfast area. Large windows give diners a clear view of the bees. Their beekeeper's visits are scheduled during breakfast hours to capitalize on the engagement value.
"We can host up to 800 guests daily and they all get a complimentary breakfast. The windows in the breakfast buffet room overlook the hives, and there's a little patio folks can step onto as well. When our beekeeper is on site, our young diners (and their parents) love to press their noses against the glass. Sometimes our beekeeper will even bring over fresh honeycomb from the hives for the kids to taste."
– Tim Ostrem, General Manager, Residence Inn by Marriott Calgary Downtown
Local flair
The Residence Inn has strong ties with the local culture and food scene in Calgary – a value the bee program was able to support.
The property runs a comprehensive Artist In Residence initiative and was proud to commission
a local muralist to paint the hives.
The hotel partners with local microbreweries to serve local beers on tap. After the first honey harvest, they collaborated with local brewery Trolley 5 to create a signature beer called Hops & Honey. The beer features honey produced by the hotel's hives and a bee inspired label created by their resident artist.
The hotel's executive chef has also embraced the hyper-local honey supply, integrating it into honey-themed meals for special events.
Alvéole's service
Beehive maintenance Environmental education Community engagement
The results
The Residence Inn team has received nothing but positive feedback from guests since implementing the bee program. The eye-catching hives, the interactive beekeeper visits, the special events, and the local honey harvest have all delivered valuable results.
"Most groups that are coming to the city will tour many potential hotels to host their event. When that tour ends with an introduction to our beehives, it helps us stand out in the hearts and minds of our potential customers. It's different from what our competitors do. It contributes to both community and sustainability which resonates very well with our guests."
– Tim Ostrem, General Manager, Residence Inn by Marriott Calgary Downtown
A key differentiator from competitors
When meeting with potential clients, the hotel always highlights their bee program and how it relates to their core values.
Tours of the hotel include a visit to the hives and often end with a gift like a jar of honey or a branded beeswax lip balm.
"Clients want to work with a facility that has shared values."
– ​​Tim Ostrem, General Manager, Residence Inn by Marriott Calgary Downtown
Guest and staff appreciation initiatives
Top clients are invited to exclusive events like honey extraction workshops or honey-themed dinners as a token of the hotel's appreciation.
Likewise, the hotel uses the workshops hosted by their beekeeper to support employee retention.
"We always reserve a bee-related event for employees to show our appreciation and to increase loyalty and satisfaction."
– Tim Ostrem, General Manager, Residence Inn by Marriott Calgary Downtown
Unique marketing opportunities
Gifting branded honey and beeswax products to potential guests during tours and events has proven to be a valuable strategy.
The hotel also uses the bee program's storytelling opportunities in social media marketing.
"During beekeeper visits, there's always a handful of guests with their phones out to capture and share that experience. It helps us differentiate ourselves."
– Tim Ostrem, General Manager, Residence Inn by Marriott Calgary Downtown
It's an important initiative. Ultimately, we measure its success by the reaction we get from our guests. We are in the business of hospitality and we know it works because we experience firsthand the impact it has on everyone involved.

– Tim Ostrem, General Manager, Residence Inn by Marriott Calgary Downtown
---
Let's talk about how to make your property stand out
We'll help you find the best nature-based solution to meet your organization's needs.
---